WAMBA
Wood Acres Men's Basketball Association
WAMBA, the Wood Acres Men's Basketball Association, was created in 1995 by self-appointed Commissioner Matthew Maury. One spring night, while his 9-year old son was practicing with a youth basketball team, the Commissioner looked at about five dads sitting around and said, "You know what, WE should be playing somewhere!" Someone else said, "I'm up for that." From such humble beginnings, a fledging basketball fraternity was born.
It was quickly discovered that Montgomery County would rent us gym space. We grabbed Wednesday nights , which is what we would call a ¾ sized court, considered perfect for many guys in their 40's and 50's. On a warm evening in March, 1995, the first game took place. Participants that night were almost exclusively the fathers of Wood Acres third graders.
The founding fathers of WAMBA were the guys who showed up on that first March night in 1995. They were:
Matthew Maury
Dennis Osterman
Randy Lyon
Billy Oshinsky
Barry Harris
Alan Willsey
Alan Weinberger
Ron Ehrmann
Jerry Bodisch
Garry Baker
Jim Duff
Bill Eggbeer
Cam Schmidt
Brian Maury
Alas, the originals are remembered fondly. Ron Ehrmann lasted only one game, breaking his finger in the Inaugural Event. He became immortalized as "the Indian" and never played again. Jerry lasted only one game as well. Over the years, slowly but surely, the originals dwindled in number. Injuries took their toll as did advancing age. In 2007, long-time WAMBANIAN Barry Harris retired, leaving only two original participants these many years later. The Commissioner, Matthew Maury, continues to oversee all things WAMBA and plays three times a week. It can be safely stated that the Commissioner holds the all-time scoring record for WAMBA, after all, he's played a lot more games than anyone else! It is estimated that the Commissioner has played in over 1000 WAMBA games. Billy O remains a Friday morning participant, after a protracted "retirement" for several years between 2003 and 2008.
The format for WAMBA has remained the same throughout the years. There are 12 participants in a game, 10 on the floor, with two subs who rotate in every four minutes. The original Wednesday game was played for an hour and fifteen minutes. The teams do not change. Today, most games last an hour and a half. The challenge is to figure out who you are playing with and gel as a team. There are no referees and it is a "gentleman's game" in which fouls are called by the participants. We don't shoot free throws.
There was no internet to speak of in 1995; communications were achieved by way of telephone, with the Commissioner making the calls each week. It quickly became apparent by the fall of 1995 that there were many other dads who wanted to play. Eventually, within six months, a second game was added. We booked the gym for three hours at Wood Acres Elementary on Wed nights and instituted "Game Two." The ranks of WAMBA swelled to over 30 players. Stalwarts such as Ira Silverstein, Kit Bigler, Ron Smith, Ray Treacy, Mike Floyd, Scott Amling, Rich Bar and Rick Shryock were added to the roster. Most of these players continue to play today. Along the way, players came and went. Legends of WAMBA, long since retired include Ed Powell, Bob Cooper, Rich Pappalardo, Dave Doi, John Bates, Tim Hutchens, "the shooting Pastor" Tom Brunkow and the incomparable and colorful Ed Hatcher.
In 2000, a third game was added. The location was Walt Whitman High School on Monday nights. This game has become the "Cadillac" WAMBA game, with most of the strongest and fastest players competing on the full sized court. This game continues to this day and many of WAMBA's very best players compete in this game.
In 2000, a third game was added. The location was Walt Whitman High School on Monday nights. This game has become the "Cadillac" WAMBA game, with most of the strongest and fastest players competing on the full sized court. This game continues to this day and many of WAMBA's very best players compete in this game.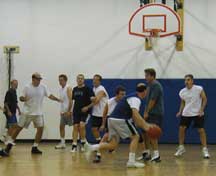 In 2002, a fourth game was added to the weekly events. This time, the location was at Westland Middle School in Bethesda, again on Monday evenings. This game was specifically created to afford the opportunity for more players to participate, as it was developing that many players just weren't able to secure a slot each week. The ranks of WAMBA had grown from the modest original 14 players to over 60.
Finally, in 2007, we secured Wood Acres Elementary on Friday MORNINGS at 6:00am. Few wives believed we would stick with it, but the game has been a success and there is a roster of over 20 players willing to drag themselves out of bed at this nasty hour to play. Some of them are even awake when the first basket is scored.
The quality of WAMBA play is spirited and the players take it seriously. A number of ball players participated on their high school teams, a few played in college. Many guys hadn't played competitively in decades and are thrilled to play again. The age span of WAMBA runs from a small contingent of "young pups" in their mid-20's to a preponderance of players in their 40's. We have a good sized roster of players in their 50's and even a couple of guys over 60 years of age.
Participation in WAMBA is strictly by invitation. Assignment sheets for all 60 slots in the five games are sent out each Friday by the Commissioner for the upcoming week. New participants are added all the time. While we continue to have a strong connection to the Bethesda community along the Mass. Ave. corridor, many WAMBA participants live in Virginia or up in Gaithersburg.
The spirit of WAMBA has taken on something akin to a modern day Lion's Club. There is a collegial sense of community among the participants. Many guys are close friends and their families know and socialize with one another. In March 1997, the first and only WAMBA Banquet was held at Alfio's Restaurant in Chevy Chase. All manner of frivolity occurred that evening including the infamous WAMBA Creed, penned by long-time WAMBANIAN Kit Bigler:
As a loyal member of the brotherhood of WAMBA, I vow to always show up just early enough to avoid the wrath of Saint Matthew (the patron saint of WAMBA), to play fiercely and fairly whether or not I ever touch the ball, to suffer in silence no matter how absurd or inaccurate the shots of my teammates, to never shoot from farther outside than brother Michael, and to never miss an opportunity to flail away at the Devil, who always resides in opponent's forearms as they drive the lane. I further pledge to uncomplainingly suffer the aches and bruises from coming into contact with Randy's arms, Brian's elbows, Alan's chest, Mike's shoulders, Kit's butt, Barry's body, or Dennis's big feet. Finally, I swear to never shoot more than or play better than our illustrious founder, the aforementioned Saint Matthew. Beware the ghost of Too Good Ray, the finest shooter in WAMBA. In all these things, do we pledge our troth.
A splendid time was guaranteed for all.
WAMBA has participated in many tournaments over the years as well. The Jelleff Boys Club Charity Holiday tournament is held at the Jelleff Boys and Girls Club in Georgetown, DC, on Father's Day and again right around New Year's every year. We take several of our better players down there and play two or three games against unfamiliar competition, with a clock, referees and a trophy at stake. We won the whole shooting match, finally, in 2007, after several tries at the brass ring. It's always a blast.
In 2006, the Commissioner published the following, which best describes the ways of our group:
The WAMBA WAY
Your most important responsibility is to safeguard not only your own health and safety, but the health and safety of all other players on the floor at all times. Mean-spirited elbows and forearms are simply not a part of our games. Rough play should be toned down. There are no refs; we must be our own officials. A purposeful foul for competitive advantage should never take place. Nor should a flagrant foul. A player running free on a breakaway should never have to worry about getting smacked on purpose.
Try not to complain about moving picks and try not to set them yourself either. None of us are professionals and sometimes it happens. Be gracious when it does. Most importantly, acknowledge that illegal picks are an unfair competitive advantage, especially in a game without referees.
Try not to stay in the lane so long that the opposing team feels you are taking advantage on offense. Be aware of the three second rule. Respect the defender who starts counting when you are in the lane too long.
Try not to complain about the play of your own teammates, not everybody can be as good as you. Constructive criticism, delivered the right way, can be helpful. Go above and beyond to compliment unselfish play. Acknowledge the great assist. Be particularly encouraging to lesser players and their achievements. Compliment great play by the opposing team as well, it will help foster the environment of a "gentlemen's game."
Arrive on time so that both games can begin with a full roster at the appointed time. Strive to NEVER be late. We have issues with the custodial staff and should not be staying past the appointed time. Arrive dressed and ready to play. Be responsible in your commitment to the game. WAMBA is designed for 12 players, when you don't show up, the entire game suffers.
Foul language is going to happen sometimes, none of us are part of the priesthood. But it should NEVER be directed at another player. Curse yourself if you wish, but never your competitor or teammate and accept that you will be called out for it by others if you do. Let the admonishment be one word, "language!"
Only one word should be used to call a foul. The word is "foul." Not "I got it", "and one" or "mine." A foul should be called immediately if it occurs so as to stop effort on the part of others. Either the offense or defense can call a foul, but clearly when the defender calls the foul there will always and forever be less arguing.
Don't argue, period. Just let it go. It will even out and if it does not, speak to others after the game and develop a consensus about how to correct the problem. While it is nice to "shake hands" when the game is over, it's more important to play with dignity during the game as well.
Don't be a ball hog, even if you are the best player on the floor. No one likes to play with a guy who jacks it up all the time. Ask yourself if you are giving others a chance. Are you a team player? Take a careful look at your game and ask yourself how other players view you.
If you get tired and need to take a few plays off, make it on offense. Never loaf on defense, never fail to get back on 'D". If you have to walk, save it for the offensive end of the floor. Nothing is more upsetting than the guy who can't run down the floor to defend and then suddenly is all over the place on offense. Also, try not to hang back under the offensive basket "hoping" you team will get the defensive rebound and chuck it the length of the floor to you for an easy bucket. It's embarrassing to score that way. There ought to be a "two-line" hockey rule or something, but there ain't. So do the right thing. And don't complain if the guy you are playing defense on tries harder and gets down the floor faster than you every time and lights you up. Ask to switch to somebody with less energy.
If you are a weaker player, find ways to contribute that don't involve shooting the ball. Good players love to play with guys who rebound, play defense and pass the ball. It's not all about making a basket. If you find yourself being criticized, consider why that is the case. Learn to set legal picks, learn to role to the basket. Learn how to box out. Read books on how to play defense. None of these skills require hand to eye coordination; they are all effort based skills. Ask your teammates what you can do to contribute to the team. Better players will always respond to a request for help. But if you come through the door shooting from the parking lot and try to bring the ball up the court every time and you aren't skilled, you are asking for trouble. Acknowledge that the game is played to win, if you are shooting from the top of the key with the game on the line and you usually shoot 15% from the field, you aren't playing smart and are asking for criticism.
If you have anger issues, leave them on the sidelines. We all have stressful lives. Ask yourself if you contribute to a negative tone. Is your body language angry; is your tone of voice aggressive, do other players want to play against you rather than with you? If the answer to these questions is yes, you need to chill out.
Hand checking is illegal. Don't use the open hand to control an offensive player. It's an unfair advantage.
Play the game in the spirit of brotherhood. Play hard, play to win, play clean, but above all, have fun. Laugh a bit and don't take it all too seriously.
WAMBA has grown over the years to over 80 participants, five games a week, 52 weeks a year. Dozens of participants have come and gone. We remember them fondly. We have seen a few career ending injuries over the years but they are rare. We often have a few guys out with nagging injuries, an occasional knee surgery or twisted ankle. But overall, the play is safe and great fun. Many guys tell the Commissioner, "It's the highlight of my week!" Long live WAMBA!
For further information, please contact the Commissioner Matthew Maury at 301-928-8686 or maurymania@aol.com.